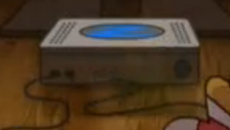 The Z Station is a video game console that can be seen in "The Third." It is possible that it has also appeared in other episodes, like "The Refund."
Owners of Console
Trivia
The Z Station is a parody of the Sony PlayStation.
The console looks like an Xbox 360, while the controller is similar to that of the Super Nintendo.
In the French dub of the show, the console's name is the "Z-Box", a reference to the Xbox console.