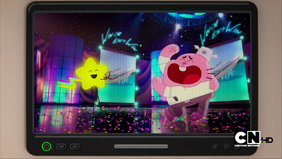 Win or Don't Win is a game show in The Amazing World of Gumball. It was first seen in "The Helmet." It is hosted by the Shooting Star. According to the game Water Sons, it is the most popular game show in Elmore.
Episode Appearances
Season 1
Season 2
Season 3
Season 4
Rules
The gist of the game is demonstrated in "The Extras." Following a brief lull after the game commences, the contestant either wins or (presumably) loses. There is seemingly no determining factor to the outcome.
Trivia
Ad blocker interference detected!
Wikia is a free-to-use site that makes money from advertising. We have a modified experience for viewers using ad blockers

Wikia is not accessible if you've made further modifications. Remove the custom ad blocker rule(s) and the page will load as expected.