William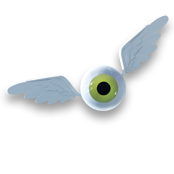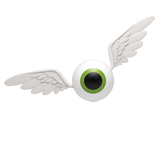 Character Information
William is a minor character in The Amazing World of Gumball.
Appearance
William is a flying eyeball. He has white, bird-like wings which are his only means of locomotion. His "body" simply consists of a single green eye. Most of the kids consider him creepy.
Personality
William is Miss Simian's personal snitch. He takes it upon himself to spy upon her students. The only time he speaks is when he is whispering in Miss Simian's ear and in the episode "The Voice."
Due to his being a snitch, as well as his overall creepy appearance and inability to talk, William does not have any friends. Despite all of this, he's actually a decent guy most of the time, showing honor and friendliness. When someone crosses him, however, he shows a cold, calculating side to himself. This was demonstrated in "The Voice," where he stalks Gumball and Darwin, and, through careful planning, tricks them into fighting each other. When this fails, he goes on an all out rampage through school in an attempt to get revenge. When he realized that it was all a misunderstanding, though, he apologizes.
Also demonstrated in "The Voice," is his powerful psionic abilities. With just a thought, he can psionically manipulate the physical aspects of reality with enough force to shatter concrete, or, cause explosions.
Episode Appearances
Season 1
Season 2
Season 3
Season 4
Season 5
Gallery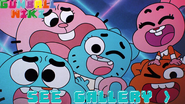 Click here to view the gallery.
Trivia
References
Ad blocker interference detected!
Wikia is a free-to-use site that makes money from advertising. We have a modified experience for viewers using ad blockers

Wikia is not accessible if you've made further modifications. Remove the custom ad blocker rule(s) and the page will load as expected.