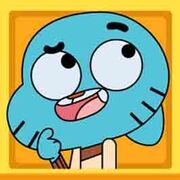 Watterson Express is an official game based on The Amazing World of Gumball.
Story
When he gets a crazy idea, there's no stopping Richard Watterson! Help the family deliver items in the Elmore Neighborhood.
Gameplay
The Wattersons (excluding Anais) are coming out of their house with items they have to deliver to Tobias, Anais, Penny and Granny Jojo. The player guides the Wattersons by clicking the arrows which causes them to change direction. When a character steps on an arrow, they will go up/down/left/right depending on where the arrow is pointing. After completing a set number of deliveries the player moves to the next level. If the player delivers an item to the wrong person, the life bar will drop. The game is over when the life bar drops to zero.
Characters
Other
Gallery
Trivia
Darwin, Nicole and Richard have their season 3 designs in the game's intro, but have their season 2 designs in the game. Gumball, however, has his season 3 design in the icon, title screen and the game's intro, but has his season 2 design in the game.
External Links
Ad blocker interference detected!
Wikia is a free-to-use site that makes money from advertising. We have a modified experience for viewers using ad blockers

Wikia is not accessible if you've made further modifications. Remove the custom ad blocker rule(s) and the page will load as expected.