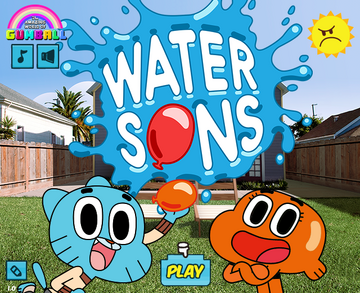 Water Sons is an online game based on "The Amazing World of Gumball."
Gameplay
The objective of the game is to basically throw water balloons at Gumball and Darwin's friends. Switch between Gumball and Darwin to throw water balloons to wet the characters or rocks to break in-the-way objects. 
Cast
Playable
Badges
Gallery
Trivia
On each complete level you get a different trivia about the show, and some of them are references of some episodes of the show:
Gumball and all of his friends live in the town of Elmore.
Gumball has a huge crush on Penny Fitzgerald, but they are both too coy to tell each other how they feel.
Darwin was originally Gumball's pet fish, but after growing legs he became part of the family.
Anais is the smartest member of the family, but no one will listen to her because she's a 4-year-old.
Gumball's mother is a well-trained martial artist.
Richard has been named "laziest person in Elmore" since 1983 (The Laziest).
Gumball's middle name is "Tristopher" (The Club).
The sun is about 93 million miles away!
Gumball's favorite video game is The Tale of Zelmore (The Promise).
Darwin's full name is Darwin Raglan Caspian Ahab Poseidon Nicodemius Watterson III (The Party).
Tobias can change his color on command (The Third).
Tobias acts like a jock, but he's really a wimp.
Win or Don't Win is the most popular game show in Elmore (The Helmet).
Daisy the Donkey is Anais' favorite doll (The Quest).
Banana Joe wears his peel like a shirt, and has a closet full of spares!
Banana Joe is a great whistler! (The Banana)
Banana Joe's most cherished possession is a pen used by Obadiah Banana when he started the family (The Banana).
Penny is a peanut with antlers.
Penny is a cheerleader at Elmore Junior High
Penny has a pet tarantula named Mr. Cuddles. It has attacked Gumball twice! (The Date)
Richard may be a dimwit, but he dresses in a small shirt and tie every day.
Richard drools a lot, particularly in his sleep.
Darwin is Richard's favorite child (The Goons).
Carmen is one of the smartest students at Elmore Junior High (The Party).
Carmen is crazy in love with Alan the balloon, although being a cactus makes it very hard for them to be close.
Carrie's last name is Krueger (The Tape).
Gumball's mother has a nasty temper that sometimes gets a bit wild. You don't want to push her to her limit (The Limit).
Darwin only knows the numbers 7, 5, 2 and 9 (The Spoon).
Elmore has a population of 20,000!
Links
Ad blocker interference detected!
Wikia is a free-to-use site that makes money from advertising. We have a modified experience for viewers using ad blockers

Wikia is not accessible if you've made further modifications. Remove the custom ad blocker rule(s) and the page will load as expected.