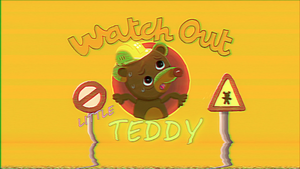 Watch Out Little Teddy is a safety video that appears in "The Safety." It revolves around Little Teddy, an accident-prone bear who is repeatedly injured and subsequently reprimanded by the narrator. The video's disturbing and unsettling nature frightens Mr. Small and everyone else in Miss Simian's classroom, but no one is more scared than Darwin.
Trivia
This video was animated by Jérémie Périn. [1]

This is also the first segment to be animated by a guest animator.

Near the beginning of the tape, still images of the Overlook Hotel from The Shining can be briefly seen.
This video is a reference to a public information film, the British equivalent of a public service announcement (PSA).
Gallery
References
Ad blocker interference detected!
Wikia is a free-to-use site that makes money from advertising. We have a modified experience for viewers using ad blockers

Wikia is not accessible if you've made further modifications. Remove the custom ad blocker rule(s) and the page will load as expected.