I am not liking MLP to make up for Globa. I am not an idiot. Please stop missing the point. My sister showed it to me.
I might cry if i don't get any respect.
Link for sad song when i cry
http:/youtube.com/watch?v=RvzrUDEGDbU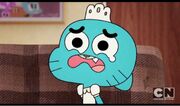 Ad blocker interference detected!
Wikia is a free-to-use site that makes money from advertising. We have a modified experience for viewers using ad blockers

Wikia is not accessible if you've made further modifications. Remove the custom ad blocker rule(s) and the page will load as expected.