Hey everybody! I just want to say I love the Amazing World of Gumball. This is my favorite show on CN next to Adventure Time and Regular Show. And also, as it says on my user name, I'm a huge Transformers Fan. I absolutly loved the cartoons and the movies. My favorite was the generation one series. I've played all the games and now Fall of Cybertron is here!!!! I LOVE this game sooooooo much!!!! It is the best Transformer game ever!
Fall of Cybertron Trailer: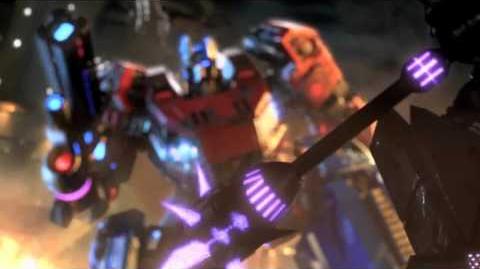 What I love
The Amazing World Of Gumball- no duh
Tranformers- obviously
Tennis- I love playing Tennis, it's my thing
Movies- love watching movies with my brothers
Call of Duty- greatest war game I've ever played
What I hate
No it alls- They make me really mad
Cartoon Network shows that only last for a month- There's no point to them
Spammers- If I knew a spammer, I would punch him in the face
Video games based on movies- not refering to the Transformers games, I love those.
Friends (people I've come to enjoy on the wiki)
Noah54: Friend of mine at school
Cperry111: This guy is awesome and a great friend
Blue P.: An awesome friend
DarPower: Funny dude
Globaluna32: She welcomed me to the wiki, I thank her for that
Dfire63: Great friend of mine at school
MarioMarioX2: He seems cool
Alfrediscoolbro3229: Friend of mine at school
Gumballamiyumi: Russel is hilarious and random
Zargy: This guy is just too funny
Legomachinemer787: This person is pretty cool
StickVentures2: Great friend and also is awesome
PhazonGumball123: He's a badass
PennyFitzgerald: It's Penny, who isn't friends with her
GumballWatterson89: Who wouldn't be friends with Gumball
Pricerocks245: A cool Call of Duty fan, like myself
Maskedman0000: He has no fear
Cartoonfan7360: He's funny and awesome
Gumball
When I first saw promos for Gumball, I thought it would be the stupidest show ever. But when I gave it a chance and I saw the very first episode, I fell in love with it. Greatest animation in a cartoon and imaginative characters make The Amazing World Of Gumball the best cartoon ever.
Nicknames
Now users have been giving me nicknames and you can use them too.
Tranny: Russel calls me this a lot, espicially when he's pissed at me in chat
GummyTransFan: This was used once, but I still remember it
GTF: Short abriviation for my name, this is easier and I would know if you're talking to me
Transformer: Used many times in chat
TransformerFan: Some users called me this
GumTransFan: Sometimes I've seen this being used
Now a Brony
Apparantly, thanks to Phazon, I am now a brony. But I will just get this out of the way. Rainbow Dash is best Pony (sorry John Marston, you're still my favorite pony that isn't part of the show) , and favorite episode I guess was the Discord episode. But I will not say this to any of my friends at school. For they will harrass me like no one has ever seen. I'm sorta like The FireyJoker, a person on youtube who did a review on MLP FIM. He kinda liked the show and that's just like me. So haters, f**k you and what not. Don't judge me....DON'T YOU DARE JUDGE ME!!!!
My true identity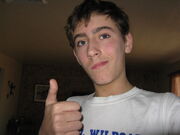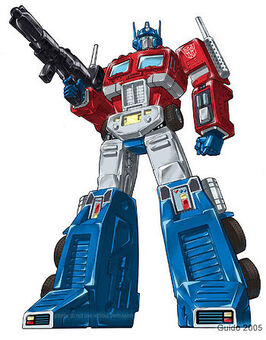 Favorite Video Games
Call of Duty Black Ops- It's just plain awesome
Transformers War For Cybertron- Great Campaign, great multiplayer, love it
Red Dead Redemption- Very fun well played Western
Starfox 64- It may be an old game, but I still love playing it.
Favorite Movies
Chris Farely Movies (ex: Black Sheep, Tommy Boy, Almost Heroes)- RIP Chris
Transformers Movies 1-3- I don't know why people didn't like the 2nd Transformers
Saving Private Ryan- best part is the ending
Battle Los Angeles- great movie
The Hangover- inspiring
Favorite Cartoons
Adventure Time- What time is it?
Regular Show- Ohhhhhhhhhhhhhhhhhhhhhhhhhhh
All Transformers cartoons- Can't get enough
The Looney Tunes Show- Not as good as the old looney tunes but it's ok
Beavis and Butt-Head- Hilarious
Napolean Dynamite- It's pretty good
Spongebob- I don't like the new episodes
Sym Bionic Titan- Sucks it got canceled
Star Wars The Clone Wars- I've seen every season
Favorite TV shows
Phsych- My brothers and I love watching this
Even Stevens- No need to say but I LOVE THIS SHOW
The Walking Dead- My cousin got me hooked on it
It's Always Sunny in Philedelphia- Hilarious show
Goals
Get 1,000 edits: status completed- On this day Wednesday March 2, 2012, I have reached 1,000 edits
Be a rollback: status completed- Mango has awarded me the power of being a rollback
Become chat mod: status incomplete-
Hope account survives after computer is turned in: status completed- It has survived
Get 2,000 edits: status complete- Sunday June 17, 2012, I have reached 2,000 edits
Become admin: status incomplete-

Transformers Fall Of Cybertron
This is the direct sequel to Transformers War For Cybertron. It follows the story of the autobots escaping their destroyed home of Cybertron. There is a trailer on Youtube that anyone can look up. It comes out Fall 2012.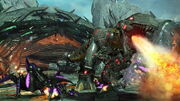 The Best
A bunch of kids at school said, "Oh dude, you've got to watch My Little Pony, it's so awesome!" I didn't want to reveal that I was a brony because of the harrassment, but then Phazon asked me who is best pony on chat. So I found this picture and he is truly the best pony ever.
John Marston is best pony.
That's not part of the show.
My made up pony
Here is my made up pony and he looks totally badass, I thank Cartoonfan for helping me make him.
His name is Grimshot Theral Frost or GTF for short, yeah it's my name in my OC pony. Most call him Grimshot.
Mental Note:
Go here to create characters: http://generalzoi.deviantart.com/art/Pony-Creator-Full-Version-254295904