Hello! I'm DeviantSerpent, a veteran user at this wiki and a former bureaucrat. I'm pretty much still active here, and I'm always open for assistance via message wall or in chat.

I have experience with JavaScript, CSS, HTML, Python, and some very slight knowledge with Ruby. At the moment, I am more familiar with CSS (basically it's the easiest foo), and I'm slightly more advanced with it than I am the others.
Subpages:

Personal script pages:

Other wikis I edit: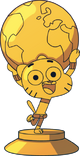 "So, how does it feel to win, son?"
This user was the featured contributor of March 2013.


_