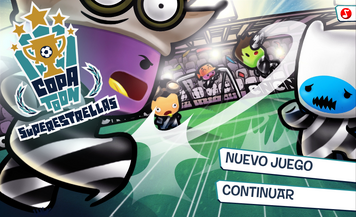 Toon Cup: Superstars (Original Spanish: Copa Toon: Superstrellas) is a CN game exclusive to Latin America.
In this game, The Amazing World of Gumball is one of the teams. Gumball is playable as a coach, along with his three Toonix team members. Two of these Toonix members wears a Gumball hat, but they have a different facial designs. The third one wears a Darwin hat.
In this game as well, there are some cards based on the show. Most of them are references to an episode, like Gumball as a skater from "The Pressure."
Card Gallery
Gameplay Gallery
Trivia
Link
Ad blocker interference detected!
Wikia is a free-to-use site that makes money from advertising. We have a modified experience for viewers using ad blockers

Wikia is not accessible if you've made further modifications. Remove the custom ad blocker rule(s) and the page will load as expected.