Mrs. Wilson
Character Information
Mrs. Wilson is a minor character in The Amazing World of Gumball. She is the mother of Tobias and Rachel, and the wife of Harold. She has made many numerous cameos throughout the series. Her first major role was in the Season 2 episode "The Sidekick."
Appearance
She shares numerous traits with Tobias and Rachel, her lips are purple, and her eyes look like Tobias'. Her skin is yellow, and her hair is blue, purple, and light blue. Her shirt is violet or red. She has purple pants. She wears green wrist bands, and green socks. She also wears violet or red shoes, and a green and white striped headband with green earrings.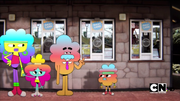 Episode Appearances
Season 1
Season 2
Season 3
Trivia
She apparently loves to shop, as she is usually seen with shopping bags in her appearances.