Timmy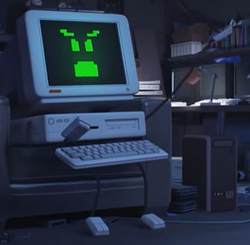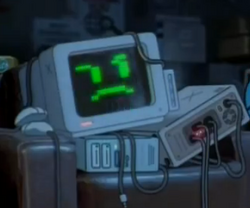 Character Information
Timmy (The Internet) is a minor character in The Amazing World of Gumball. He made his first appearance in "The Internet." He has the ability to control the contents of the Internet, along with several other pieces of technology, possibly via "hacking." In "The Internet," his face is revealed. In "The Intelligence", he has a body and has computer mice for feet.
Personality
He believes he can act like a jerk to people online with no consequences. He is known to not have any friends. He also possesses a similar personality to youths on the internet, using slang terms such as "YOLO."
Episode Appearances
Season 2
"The Internet": His first major role and appearance. He posts an embarrassing video of Gumball online.
Season 4
Season 6
"The Intelligence": His third major role. He gets a glitch and powers down, causing everyone in Elmore to act medieval.
Gallery
Trivia
His real name is Timmy, as revealed by his mother.

Coincidentally, his name was mentioned in "The Boombox," before his debut.
This could also be a reference to the Fairly OddParents episode "Father Time!," when at the end of the episode, the Internet and Timmy switch names.

He also can manipulate objects outside of the Internet, such as traffic lights, telephone poles, and even fire hydrants. He can control and hack anything that has technology.
His name may also be a reference to Tim Berners-Lee, who invented the World Wide Web (often mistakenly called the actual Internet).
In Portugal, his name is Jimmy.
He appears as a boss character in the crossover game Cartoon Network: Battle Crashers.
His personality may be a reference to the stereotype of people who comment and share on websites such as Reddit, YouTube, Facebook, Twitter, Instagram, Tumblr, and most notably 4chan, whose actions are often viewed as blind, immature, belligerent, and outlandishly offensive.
After his full appearance in "The Internet," he gets a slight redesign and becomes a CGI character. He is also given feet consisting of computer mice and black wire.