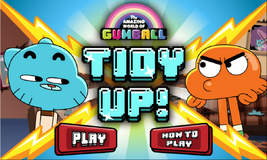 Tidy Up! is an online game based off The Amazing World of Gumball.
Storyline
Gumball's friends have made a mess of the house! It is up to you to help Darwin clean the place up before time runs out.
Gameplay
The player clicks on furniture to fix before time runs out. Some items require multiple clicks. The player can click on arrows to move to a different room. Gumball will be peeking at the side of the room signifying that the player should enter the next room and fix the other furniture. You can click on a clock icon for extra time.
Gallery
Cast
External Links
Ad blocker interference detected!
Wikia is a free-to-use site that makes money from advertising. We have a modified experience for viewers using ad blockers

Wikia is not accessible if you've made further modifications. Remove the custom ad blocker rule(s) and the page will load as expected.