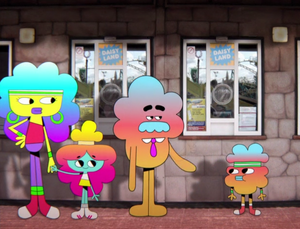 The Wilsons are a family that lives in Elmore. The members of the family have colorful bodies, puffy heads, and, in the case of the females, hair. All of the members wear headbands, except for Harold.
Family Members
Trivia
The first names to every member of the family all are spelled with 6 letters.
The males both have cloud-like bodies, while both females look humanoid
Because Ben Bocquelet and some of the show's staff disliked Rachel's appearance in "The Party," her character has been largely scrapped, save for a brief flashback in "The Matchmaker."
Gallery
Ad blocker interference detected!
Wikia is a free-to-use site that makes money from advertising. We have a modified experience for viewers using ad blockers

Wikia is not accessible if you've made further modifications. Remove the custom ad blocker rule(s) and the page will load as expected.