"They were clearly missing something." "You notice it too?"
This article is a stub. Please help the Gumball Wiki by expanding it.
Thank you!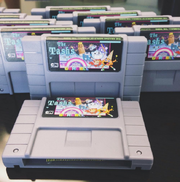 The Tasks is a mini-comic of The Amazing World of Gumball made by Jon Chad. The comic comes in a Super Nintendo cartridge. They were sold for $30 at the San Diego Comic-Con 2014 with a limited run of 550 copies. [1]

References
GRAPHIC NOVELS

The Amazing World of Gumball Vol. 1: Fairy Tale Trouble
The Amazing World of Gumball Vol. 2: Cheat Code
The Amazing World of Gumball Vol. 3: Recipe for Disaster
The Amazing World of Gumball: After School Special Vol. 1
The Amazing World of Gumball Vol. 4: Scrimmage Scramble
The Amazing World of Gumball: Tunnel Kingdom
The Amazing World of Gumball Original Graphic Novel: Midsummer Nightmare
TBA
MISCELLANEOUS

The Pants
The Tasks
2015 Special 1
The Amazing World of Gumball 2015 Grab Bag
The Amazing World of Gumball 2016 Grab Bag
The Amazing World of Gumball 2017 Grab Bag
TBA
TBA