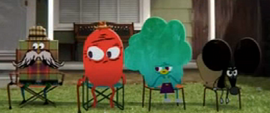 The Senior Citizens are a group of characters in The Amazing World of Gumball. They do stereotypical "old-people" stuff, like taking part in senior talent shows, sitting around on lawn chairs, retelling stories of their youths, and saying comments such as: "What did he say?".
Members
Past Members
Affiliation
Episode Appearances
Season 1
Season 2
Season 3
Season 4
Season 5
"The Guy": Marvin is one of Gumball's "Spot and Burn" targets.
"The Boredom": Marvin is almost knocked down by Doughnut Sheriff's car.
"The Choices": Marvin's younger self is seen protesting with Mr. Small.
"The Code": Marvin is seen riding the bus.
"The Slide": Betty tells Gumball, Darwin and Rocky where she saw Byrdie, and Marvin is later seen leaving the hospital.
"The Loophole": Betty's purse is stolen by Bobert.
"The Ollie": Marvin is among the people laughing at Gumball.
Gallery
​Trivia
As plaid is a pattern native to Scotland, Donald has a Scottish accent.
Louie resembles Disney's Mickey Mouse, and Rat from the newspaper comic Pearls Before Swine.
Ad blocker interference detected!
Wikia is a free-to-use site that makes money from advertising. We have a modified experience for viewers using ad blockers

Wikia is not accessible if you've made further modifications. Remove the custom ad blocker rule(s) and the page will load as expected.