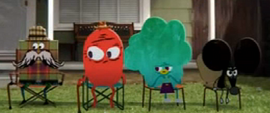 The Senior Citizens are a group of characters in The Amazing World of Gumball. They do stereotypical "old-people" stuff, like taking part in senior talent shows, sitting around on lawn chairs, retelling stories of their youths, and saying comments such as: "What did he say?"
Members
Former
Affiliation
Episode Appearances
Season 1
"The Responsible": Gumball and Darwin bump into Marvin while walking Anais at the park. He treats Anais as a pet, prompting her to bite him.
"The Debt": All of them appear at the talent show (except Betty who is replaced by a yellow old man) - four of them performing, and two of them in the audience.
"The End": The men appear as background characters standing in line in the supermarket.
"The Laziest": Four of them are lounging out in a yard, when Gumball and Darwin ask them about Lazy Larry.
"The Prank": Marvin watches the paramedics take the bucket off Richard's head.
"The Kiss": Four of them appear lounging out in a yard when Donald asks Gumball to give Granny Jojo "a big kiss from me!"
"The Goons": Marvin joins the Dumb Race, and accidentally runs over Gumball and Anais with his electric wheelchair.
"The Poltergeist": Donald is seen at the cinema in Mr. Robinson's flashback, as well as the yellow old man.
"The Wand": Marvin is seen at the cinema in Richard's flashback.
Season 2
Season 3
Season 4
Season 5
Gallery
​Trivia