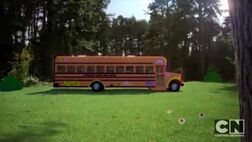 The
School Bus
is the vehicle that drives students to and from
Elmore Junior High
. It is usually parked outside in front of the school. The school bus first appeared in "
The Mystery
" as the vehicle that accidently ran over
Principal Brown
. After this, the school bus makes many other appearances in the series.
Rocky
seems to be the bus driver.
Trivia
In "The Quest", Gumball, Darwin and Anais ride the school bus. In "The Gi" and "The Bumpkin" they do not.
It is always seen with graffiti on its sides.
The words "Elmore Jr. High" can be seen on the sides of the bus.
The school bus is loosely based on the Ford B-700.
Its license plate number is BIGBOY4.