"OMG, OMG, UF2HLP!"
This article is a stub. Please help the Gumball Wiki by expanding it.
Thank you!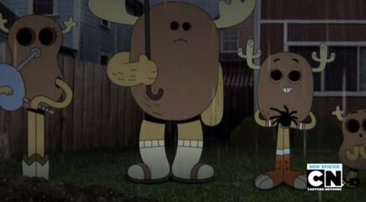 The Fitzgeralds are an anthropomorphic peanut family living in the city of Elmore. They all have the appearance of an anthropomorphic peanut, with varying sizes and shapes, tall and small. As well as resembling peanuts, they all have antlers of varying sizes. The fact that their bodies have holes in them suggest that it is a type of shell.
As Penny was revealed to be a shapeshifting fairy-like creature in "The Shell," it can be assumed that the rest of her family are also similar beings. 
Family Members
Trivia
Their last names is a reference to president John Fitzgerald Kennedy.