Eggheads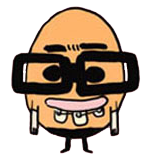 Character Information
The Eggheads are minor characters in The Amazing World of Gumball, and are a duo of beige-colored eggs that made their first appearance in "The End" at Food N' Stuff.
Appearance
The Eggheads are a pair of beige eggs. One of them has glasses and braces, while the other is relatively bare with acne on his forehead; both have buck teeth, similar eyebrows, and a generally nerdy appearance overall.
Personality
The Eggheads are the biggest geeks in Elmore Junior High. They speak with British accents, and have an obsession with academics. The two of them are relatively friendly, being sociable enough to attempt to chat with Gumball in "The Genius," and later asking him to be their club president in "The Club." Due to their nerdy way of talking and tendency to use sophisticated words, it is likely that most people don't understand what they are saying, causing them to be social rejects.
Episode Appearances
Season 1
Season 2
Season 3
Gallery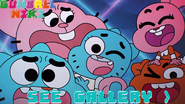 Click here to view the gallery.
Trivia