Eggheads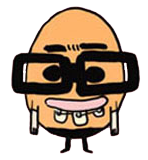 Character Information
The Eggheads are a duo of beige-colored eggs that made their first appearance in "The End" in Food N' Stuff.
Appearance
The Eggheads are a pair of beige eggs. One of them has glasses and braces, while the other is relatively bare with freckle-like ridges on his forehead; both have buck teeth, similar eyebrows and a generally nerdy appearance overall.
Personality
The Eggheads are the biggest geeks in Elmore Junior High. They speak with English accents and have an obsession with academics. The two of them are relatively friendly, being sociable enough to attempt to chat with Gumball in "The Genius" and later asking him to be their club president in "The Club". Due to their nerdy way of talking and tendency to use sophisticated words, it is likely that most people don't understand what they are saying, causing them to be social rejects.
Episode Appearances
Season 1
"The End": They are seen waiting in line at The Supermarket.
"The Quest": On the school bus.
"The Genius": Gumball thinks that the Eggheads are smart because they have big heads, so he inflates his head and attempts to chat with them.
"The Club": The Eggheads approach Gumball to ask him to be their club president. Upon his refusal, they get angry and plot their vengeance.
Season 2
"The Sidekick": They are seen in the lunchroom and one of them talks to Darwin.
"The Storm": One of them appears at the school field.
"The Voice": One of them is seen on Elmore Plus and later in the hallway.
"The Promise": They are seen on the school bus, and later they talk to Carrie outside Ripley 2000.
"The Boombox": They are conducting an experiment with Tobias in the school laboratory when Gumball and Darwin run by, causing their experiment to blow up.
"The Sweaters": They are seen talking to each other outside the school.
"The Internet": They are seen flying kites at the beginning of the episode, and later they hang out at the park.
Gallery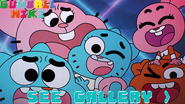 Click here to view the gallery.
Trivia
An egghead is common saying for a person who knows much more than common folk would.
A character similar to the eggheads appears in "The Dress", when Gumball is coming up with a name.