The Dumb Race
was a event that occurred in
The Goons
. It was held at
The Park
and the participants were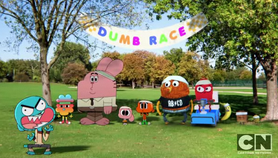 Gumball
,
Darwin
,
Anais
,
Richard
,
Rocky
,
Anton
,
Banana Joe
,
Idaho
,
Bert
, and
Tobias
. Anyone who took off their blindfolds during the race was considered disqualified and the participant that ran the farthest without stopping won.
Race Results
10th: Idaho- Hit by a golf club.
9th: Banana Joe- Split by a chain link fence.
8th: Anton- Ran into a lake and was eaten by geese.
7th: Rocky- Hit his head on a low branch and fell.
6th: Richard- Larry accidentally proposed to him, causing him to do some deep thinking, taking off his blind fold in the process.
5th/4th: Anais and Gumball-They both forfeited at exactly the same time.
3rd: Bert- Accidentally pulled off his blindfold, disqualifying him.
1st/2nd: Darwin and Tobias. Its unclear if Tobias won,but Darwin hadn't taken off his blindfold and he ran into a tree but its implied he won, Tobias grabbed balloons early on and shouted "Im not Winning" and floated away, implying he left the boundaries possibly disqualifying him.
Trivia/Goofs
Since Gumball and Anais were eliminated at the same time, it is unknown who was eliminated first.
Goof: In the hospital following the race, Richard says that 2 adults were injured (himself and Rocky). But Richard was never injured, so Rocky was the only adult to be injured.