Welcome to

1,189 articles and growing...

April 6, 2016
Forgot to make this yesterday... Anyway, yesterday marked five years since our wiki was first created, and we're still up and running today! Can you believe that? Time has really passed by fast... Happy anniversary :) - Heartless
April 1, 2016
Happy Halloween! - Ben Bocquelet
Who should be April's featured contributor?
Note: In order for a user to become a featured contributor, the user must have the highest amount of votes by the end of the current month.
Congratulations to
LegoKirby12
for winning the Wiki's 2015 Drawing Event! Shown above is his entry, which garnered the most votes during the voting period. Other great artwork was submitted, and they can all be seen
here
.
April Fools! Which user would you prank the absolute snot out of them?
Previous winner
A majority of the users voted that Avatar Raava would be a great Valentine!
Of the following, who is your favorite faculty member of Elmore Jr. High?
Previous winner
A majority of users voted they are very excited for "The Origins"!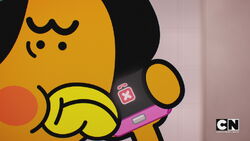 "The Parasite" premieres May 5, 2016!
0
The Amazing World of Gumball Wiki
Join the Chat>