Watch The Amazing World of Gumball, Thursdays at 7:00pm/6:00c.
Only on Cartoon Network!
Welcome to

1,046 articles and growing...

July 17, 2015
Happy Eid-ul-Fitr TAWoG fans! Raava
May 10, 2015
Happy Mother's Day from The Amazing World of Gumball Wiki! - Perry
May 3, 2015
Happy 4th Anniversary, Gumball! Kaijusaurus-Rex
April 22, 2015
Happy Earth Day! Avatar Raava
April 5, 2015
Happy Easter! Destiny of Awe
February 14, 2015
Happy Valentine's Day! Kaijusaurus-Rex
Why did Rob want revenge on Gumball and Darwin in "The Nemesis"?
Previous answer
Karen tossing the desk from her window started the domino effect in "The Butterfly."
Who should be August's featured contributor?
Note: In order for a user to become a featured contributor, the user must have the highest amount of votes by the end of the current month.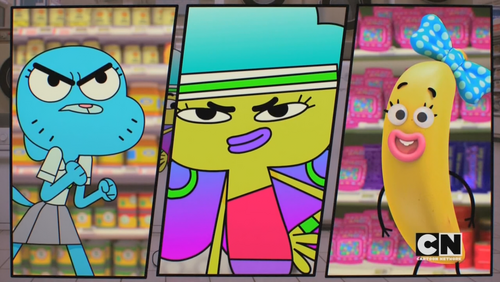 Which user has the most interesting backstory?
Previous winner
A majority of the users voted that Klonoamiyumi would be the best fighter in Super Smash Bros.!
We've had a pretty long hiatus as of late. How have you dealt with it?
Previous winner
A majority of users liked Season 3 the most!