Home
Talk

0
869pages on
this wiki
Watch The Amazing World of Gumball, Thursdays at 6:30pm/5:30c.
Only on Cartoon Network!
Welcome to
869 articles and growing...


May 3, 2014
The winner for the drawing marathon was SuperMKerwan. Congratulations!

What was Anais trying to teach Richard in "The Gripes?"
Who should be August's featured contributor?
Note: In order for a user to become a featured contributor, the user must have the highest amount of votes by the end of the current month.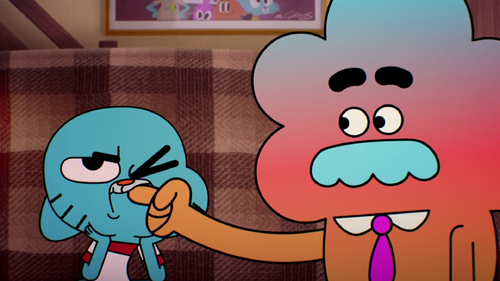 He sure likes to poke things.
The world is a big place, but which user would you want to rule it?
Previous winner
A majority of the users voted that MisterJim sounds the most like a superhero!
Holidays are coming! Where would you want Gumball to visit for a holiday? (Note - Countries are identified by their official names to keep people happy)
Previous winner
A majority of the users thought that Blue Team (Gumball, Nicole, Tina, Alan and Bobert) would win in a war against Orange Team (Darwin, Anais, Masami, Hector and Penny)!