Watch The Amazing World of Gumball, Thursdays at 7:00pm/6:00c.
Only on Cartoon Network!
Welcome to

1,176 articles and growing...

February 2, 2016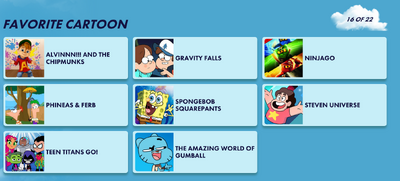 The Amazing World of Gumball has been nominated for a Kids Choice Award!
January 1, 2015
Happy New Year! - Beemo
Why did Alan "ditch" Gumball in "The Traitor"?
Who should be January's featured contributor?
Note: In order for a user to become a featured contributor, the user must have the highest amount of votes by the end of the current month.
Congratulations to
LegoKirby12
for winning the Wiki's 2015 Drawing Event! Shown above is his entry, which garnered the most votes during the voting period. Other great artwork was submitted, and they can all be seen
here
.
Happy New Year! Which user would you spend New Year's Day with?
Previous winner
A majority of the users voted that PhoenixKenny would be a great person to go Christmas shopping with!
Do you think 2016 will be a good year?
Previous winner
A majority of users voted that Anais would be most likely on Santa's naughty list!