Teri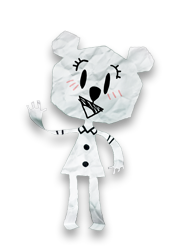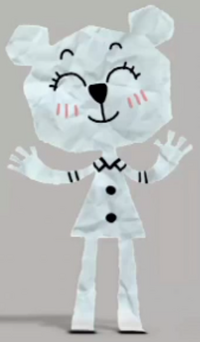 Character Information
Gender:
Male ♂ (prototype)

Female ♀ (final concept)

Also known as:
Paper Boy (by Gumball in the early reel)
Species:
Paper bear
Age:
12
Friends:
Gumball, Darwin, Penny, Masami, Molly, Carrie, Carmen, Leslie, Bobert, Juke, Sarah, and the School Nurse (unrequited)
Enemies:
Tina, Jamie, Tobias, and the Virus
Relatives:
Unnamed mother, Unnamed father
Occupation:
Student
First Appearance:
"Early reel" (prototype)

"The Third" (final concept)

Voice:
Teresa Gallagher[1]
Gallery

Color Scheme
coat
cloth
eye
outline

none

none
Teri is a supporting character in The Amazing World of Gumball. She is a hypochondriac, and can usually be found in the nurse's office. Despite her being a bit self-absorbed, she's a very nice girl.
Appearance
Teri is a slightly crumpled paper cut out of a bear. Her design resembles that of a school kid doodling on a piece of folder paper, and then cutting it out -- some parts of her coloring are messier. She is usually seen wearing a blazer, which is commonly used for school uniforms or formal occasions. In Season 2, she acquires eyebrows. In The Origins: Part Two, she is shown as a smaller version but the face is drawn less neater, as an infant.
Personality
Teri is a hypochondriac, meaning that she has a habit of believing that she has a number of ailments that are more than likely all in her head, such as believing to have gone deaf because no one had spoken to her in the past five minutes. Because of this, Teri spends most of her time in the nurse's office. Aside from this, Teri seems to be a member of the Elmore Junior High Cheerleading Squad, and is also one of the Treehouse Girls. She often tries to intimidate her classmates of an object's filthiness by comparing it to the number of germs on an average toilet seat. Although kind and sensitive at heart, she frequently comes across as self-centered due to her fears.
Episode Appearances
Prototype
Season 1
Season 2
Season 3
Season 4
Season 5
Relationships
Much like her relationship with Gumball and Darwin, Teri always collide with the nurse seeing her treating to the students wrong and overact with her, which makes the nurse usually ignore Teri more than she usually does with the other students.
Gallery

Click here to view the gallery.
Trivia
Her name is a pun on the fact that you tear paper easily.
In her concept art, Teri was wider, and un-crumpled. She also lacked a collar and buttons on her dress.
In the Early reel, Teri was apparently male, as she/he was blown into the girl's bathroom, eliciting quite a commotion. Gumball also refers to Teri as "Paper Boy". 
A writer of the show suggests that Teri is skilled at paper craft and origami. This is supported by her reading a book on origami on two occasions: in "The Quest," and in "The Mystery."
Because Teri is made out of paper, she is very fragile, and physically weak. An example was when she "slapped" Gumball in "The Party."
She uses a pencil to draw something on her face, such as a teardrop, or a face mask, as seen in "The Virus."
She likes to scribble fake tattoos on her arm, according to James Lamont's Formspring.
Her first major role is in "The Virus."
In "The Phone," it is shown that Teri plays the xylophone (the marimba, specifically).
In "The Flower," Teri was unaffected by the rain, despite being made of paper.
In "The Words," it is revealed that Teri is a germaphobe.

Also, in the aforementioned episode, it is revealed that if Teri stands in the light, you can see "inside of her."

In "The Virus," it is revealed that Teri's mother is a doctor, which explains why she is such a germaphobe.
In "The Mystery," if you look closely in the yearbook, you can see that Teri is in her early reel design.
It is revealed in "The Origins: Part Two," when she was younger, her facely was crudely drawn.
References