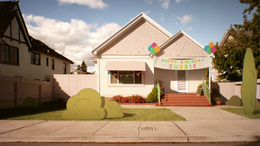 Sussie's house is a minor location in The Amazing World of Gumball. It is the residence of Sussie and her parents. It first appeared in "The Job." However, in that episode The Pepperonis seems to be the residents in the house; it's likely that they've moved out, or due to some other unknown reasons. The house reappears in "The Pony," in which Gumball and Darwin unwillingly attended Sussie's birthday party. The house is plain white, with three windows and a screen door. The interior has yet to be seen. Her house was seen again in "The Sidekick," when Jackie Wilson fell into a bush. Her room was seen in "The Night", where she was dreaming. It is once again seen in "The Weirdo," where she wakes up from sleeping, puts on her googly eyes, and brushes her teeth.
Ad blocker interference detected!
Wikia is a free-to-use site that makes money from advertising. We have a modified experience for viewers using ad blockers

Wikia is not accessible if you've made further modifications. Remove the custom ad blocker rule(s) and the page will load as expected.