Sussie
Character Information
Sussie is a minor character in The Amazing World of Gumball. She is a student in Miss Simian's class.
Appearance
Sussie is a chinikin puppet with googly eyes. She wears a blue plaid dress with white shoes. She has no hair, unlike most characters on the show.
Personality
Sussie is shown to be a little odd, and somewhat obnoxious. In "The Ghost", she spits out her hot cocoa because of Gumball's stinky breath, and in "The Party", Penny and Masami give her annoyed looks because of her sloppy eating habits. She apparently likes eating, a trait that can be seen throughout Rachel's entire party. She also tends to talk a lot, as shown in "The Words". Despite this, Sussie is apparently good friends with some of the cheerleaders, since she was sitting with them in "The Party". In "The Bet", Miss Simian refers to her as a freak.
Episode Appearances
Season 1
"The Ghost": Gumball tests out his bad breath by talking to her. It works - she regurgitates her hot chocolate upon smelling his breath.
"The Mystery": During the discussion regarding who harmed Principal Brown, she inputs that she saw him after school, meaning that the perpetrator must be someone who stayed after school.
"The Party": Gumball considers her as a date, but as he asks her, she burps in his face, causing him to wince at the smell. She is later seen at Tobias and Rachel's House, standing in the same spot and eating for the duration of the party.
"The Sock": Sussie has a small appearance in the first scene, where Miss Simian is disgusted by her drooling on her homework.
Season 2
"The Apology": She gives a disgusted look at Miss Simian's butt.
"The Words": She annoys Darwin on the bus and is later seen in Miss Simian's classroom where Darwin insults her.
"The Skull": Darwin holds up a photo of her and reveals that Gumball once kissed her while he was on morphine.
"The Bet": Seen in Miss Simian 's classroom, offended by Miss Simian telling her she's a freak-show owner.
"The Sidekick":Darwin comments on her sloppy eating habbits.
"The Pony": She is in her birthday party, waiting for someone to come.
"The Storm": Seen on the playground screaming "Burn! Burn! Burn!".
"The Photo": Seen in the hallways turning off and on the lights because she thinks it's 'night and day'.
"The Voice": Gumball and Darwin apologize to her, despite having never done anything wrong to her.
"The Promise": She offers her seat to Gumball in the school bus.
Gallery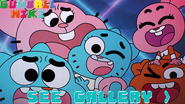 Click here to view the gallery.
Trivia
Sussie is actually a chin (see first image in the gallery). This style of character is called a chinikin. However, many people confuse her for a thumb.
Her name is also under debate. Her name could be Sussie (based on correct grammar), Sussy (based on how Gumball pronounces her name in "The Ghost"), or Susy (based on how Gumball spells her name in "The Party").
In an early storyboard drawing for "The Quest", Sussie was originally going to be the one throwing Anais' doll around with Tobias, but for some reason the storyboard artists switched her with Carrie.
Sussie is performed and formerly voiced by Ben Bocquelet's girlfriend, Aurelie Charbonnier. In season 2, British comedian Fergus Craig replaced Aurelie as the voice of Sussie.
For the reason above, Sussie is one of Ben's favorite characters, and because Ben finds Sussie "elusive and funny."
Her parents are revealed in "The Pony".
On Gumball's date list paper in "The Party", Sussie's name is spelled Susy. This may be her name's actual spelling or a spelling fail on Gumball's part.
Sussie is filmed by having Aurelie lay down on something, like a bed, against a green screen with her head upside down between it, and her chin being the only thing seen, as her head is covered with Sussie's clothes and body.
Her name says "Saucy" in the closed captions for "The Party", which is incorrect when it should be Sussie. This also happens with the subtitles.
While Sussie does not have a profile on the American website, on the Japanese, she does. Her profile may be viewed here.
She tends to repeat the last thing people say as shown in "The Words".
References