Sussie
Character Information
Sussie is a supporting character in The Amazing World of Gumball. She is a student in Miss Simian's class.
Appearance
Sussie is a chinikin puppet with googly eyes. She wears a blue plaid dress with white shoes. She has no hair, unlike most characters on the show.
Personality
Sussie is shown to be a little odd, and somewhat obnoxious. In "The Ghost," she spits out her hot cocoa because of Gumball's stinky breath, and in "The Party," Penny and Masami give her annoyed looks because of her sloppy eating habits. She apparently likes eating, a trait that can be seen throughout Rachel's entire party. She also tends to talk a lot, as shown in "The Words." Despite this, Sussie is apparently good friends with some of the cheerleaders, since she was sitting with them in "The Party." In "The Bet," Miss Simian refers to her as a freak.
Episode Appearances
Season 1
Season 2
Season 3
Gallery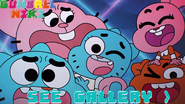 Click here to view the gallery.
Trivia
References