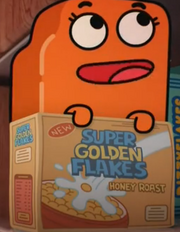 Super Golden Flakes is a cereal brand in The Amazing World of Gumball. It appears in "The Treasure," when Gumball said it looked delicious. It reappears in "The Watch," where Darwin hides to avoid getting in trouble by Richard, then gives Gumball an idea to dress up as the Grim Reaper to force Marvin to return the watch.
Ad blocker interference detected!
Wikia is a free-to-use site that makes money from advertising. We have a modified experience for viewers using ad blockers

Wikia is not accessible if you've made further modifications. Remove the custom ad blocker rule(s) and the page will load as expected.