"Obviously something is missing, you notice it too?"
This article is a stub. Please help the Gumball Wiki by expanding it.
Thank you!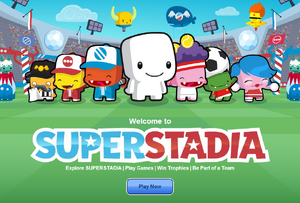 SuperStadia
is an interactive CN game in UK. It is exclusive to CN European sites.
In this game, Gumball appeared as a challenger in a game called Hyperbowl. It is unknown when Hyperbowl will open to the public.
Gallery
External Links
Ad blocker interference detected!
Wikia is a free-to-use site that makes money from advertising. We have a modified experience for viewers using ad blockers

Wikia is not accessible if you've made further modifications. Remove the custom ad blocker rule(s) and the page will load as expected.