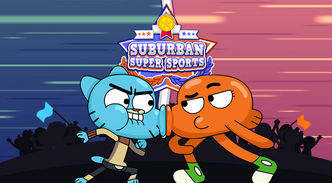 Suburban Super Sports, also known as The Gumball Games, is an online game based off The Amazing World of Gumball. It was released on August 1, 2016.
Plot
Gumball and Darwin compete against each other in a series of sporting events.
Gameplay
In the single player mode, the player controls Gumball. In the multi-player mode, the first player plays as Gumball, and the second player plays as Darwin. There are 5 events:
March: Players have to run to the finish line away from Tina.
Jump: Players jump from the trampoline to make a long jump distance.
Joust: Players raise their brooms to hit each other.
Rope: Players can pull the ropes from the opposite team to pass the line.
Launch: Players throw a can of soda to reach the longest distance.
Characters
Playable
Non-Playable
Gallery
Trivia
In the Jumping and Launching events, a slightly different version of the show's ending theme can be heard.
Goofs/Errors
In the Jousting event, Gumball and Darwin's voices are swapped; i.e. when Darwin gets hurt, one can hear Gumball grunting, and vice versa.
External Links
Ad blocker interference detected!
Wikia is a free-to-use site that makes money from advertising. We have a modified experience for viewers using ad blockers

Wikia is not accessible if you've made further modifications. Remove the custom ad blocker rule(s) and the page will load as expected.