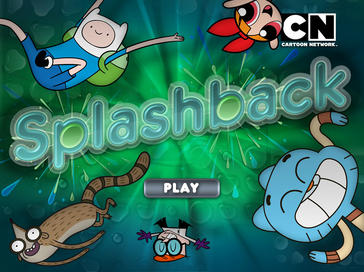 Splashback is an online game on the Cartoon Network site. It was released on December 10, 2012.
Gameplay
The game features many shows like The Amazing World of Gumball, Adventure Time, Regular Show, Dexter's Laboratory, and The Powerpuff Girls. In order to beat the game, you need to clear the board of bubbles without running out of drops. If you do, you lose the game.
Gumball Badges
NOTE: Badges can only be earned on the Cartoon Network websites, and you must be logged in with your account in order to claim your badges.

- Burst 1,000 bubbles.
Gallery
Trivia
The game was originally released in 2005 as Dropple, and was part of Cartoon Network's "Power Play" games. It featured Dexter's Laboratory, The Powerpuff Girls, Foster's Home for Imaginary Friends, Ed, Edd n Eddy and Hi Hi Puffy AmiYumi. In the CartoonNetwork.com version, the latter 3 shows were replaced by Adventure Time, Regular Show and The Amazing World of Gumball. The original game featured backgrounds from Cartoon Network's City rebrand, which lasted from 2004 to 2006.
The game is based on Miguzi, a defunct block game. That game is playable here.
External links
Ad blocker interference detected!
Wikia is a free-to-use site that makes money from advertising. We have a modified experience for viewers using ad blockers

Wikia is not accessible if you've made further modifications. Remove the custom ad blocker rule(s) and the page will load as expected.