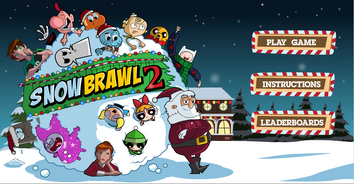 Snowbrawl Fight 2
is an online game exclusive to Cartoon Network Asia overseas.
Gameplay
At the start, you are given a choice of which team to pick. There are eight teams of three, each representing a different Cartoon Network show and having different stat spreads.  The teams are:
Ben 10 Ultimate Alien (Ben, Kevin, and Gwen):  high power, low health, average speed
The Powerpuff Girls (Blossom, Bubbles, and Buttercup): balanced
The Marvelous Misadventures of Flapjack (Flapjack, K'nuckles, and a random seaman):  low power, average health, high speed
The Grim Adventures of Billy and Mandy (Billy, Mandy, and Grim):  low power, high health, average speed
Chowder (Chowder, Mung Daal, and Schnitzel): average power, very high health, very low speed
The Amazing World of Gumball (Gumball, Darwin, and Anais): low power, low health, very high speed
Ben 10 Omniverse (Ben, Rook, and Grandpa): average power, high health, low speed
Adventure Time (Finn, Jake, and Princess Bubblegum):  high power, average health, low speed
After choosing a team, you go up against another randomly selected team.
The object of the game is to pelt the enemy team members with snowballs until they are all incapacitated (turned into snowmen). In the fight, the player may only directly control one character at a time.  The other two, while able to move about and retaliate on their own, are vastly inferior to the enemy AI.
There are also three different types of special throws. The special throw a character receives is dependent on what number denotes them. Gumball, for example, is Character 1, so his special throw is one snowball that does extra damage. Darwin is Character 2, so his throw is three snowballs that spread out, and Anais is Character 3, so her throw is two rotating snowballs. The same method is applied to distribute special attacks amongst the characters of other teams. In addition, there is a bar at the bottom of the screen that fills up as damage is dealt to the enemy. The player's bar is to the right, while the enemy's bar is to the left. When this bar is full, you may use a super throw, which your selected character's special throw, but with extra damage.
After each victory, you are given three stat points to distribute as you please into power, health, and speed. There are eight teams to defeat: seven random teams (in no particular order), followed by Santa.
Gumball Badges
NOTE: Badges can only be earned on the Cartoon Network Asia Pacific websites only and you must be logged in with your account in order to claim your badges.

- Defeat Santa as Gumball.
Gallery
Trivia
This is the sequel to the original SnowBrawl Fight that was released years ago.
Glitch: When Darwin has turned into a snowman, pause and resume the game, Darwin will be alive but with zero health. Receiving a hit will turn him back into a snowman. However, since Darwin is the 2nd player, the other team's 2nd player will be alive at zero health if that team member has already defeated. This glitch does not work with the 1st or 3rd player.
In CN US, this game is called SnowBrawl Fight without releasing its prequel.
This is the first crossover CN game that has different badges system on regions.
The sequel to this game is SnowBrawl Fight 3.
External Links
Ad blocker interference detected!
Wikia is a free-to-use site that makes money from advertising. We have a modified experience for viewers using ad blockers

Wikia is not accessible if you've made further modifications. Remove the custom ad blocker rule(s) and the page will load as expected.