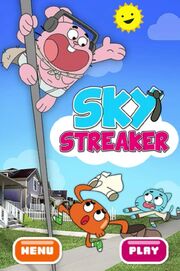 Sky Streaker is a game based off of The Amazing World of Gumball. It is playable online and as a downloadable app for Apple and Android devices.
Plot
Richard is trying to break his record of not wearing pants, but his family has had enough.
Gameplay
The player controls Richard as he climbs a pole to collect coins. If you touch the floating clothing or get caught by Gumball and Darwin, you'll fall off the pole.
Levels
Cast
Playable
Non-Playable
Items
NOTE: Not all of the items can be worn at the same time. (e.g. If you put on the Funny Glasses and are already wearing the Red Glasses, the Red Glasses will be taken off automaticaly in favor of the Funny Glasses.)
Gallery
Trivia
External Links
Ad blocker interference detected!
Wikia is a free-to-use site that makes money from advertising. We have a modified experience for viewers using ad blockers

Wikia is not accessible if you've made further modifications. Remove the custom ad blocker rule(s) and the page will load as expected.