Siciliana Pepperoni
Character Information
Siciliana Pepperoni is a minor character in The Amazing World of Gumball. Her first appearance was in "The Job."
Physical Appearance
Siciliana is an anthropomorphic pepperoni pizza (it being mostly her head) with a body attached. She wears a long red dress, a matching bow on the left side of her head, and what seems to be red pumps. She also has big cheeks.
Episode Appearances
Season 2
Season 3
Season 4
"The Others": She can be seen in the crowd of citizens on the highway.
"The Parking": She is mentioned by Anais. She also appears in the cinema.
"The Romantic": She appears in the musical number.
"The Wicked": She and her husband attack the Shape People.
"The Traitor": She is in the cinema.
"The Nest": She can be seen running away from the turtles.
"The Misunderstandings": She can be seen in the mall.
"The Blame": She is seen at Felicity's meeting and later at the pile of burning books.
"The Scam": She is part of the crowd in front of Elmore Junior High.
"The Disaster": She is in the mall when Rob changes the brightness.
Season 5
"The Boredom": She can be seen in the mall.
"The Choices": She was in the crowd at Nicole's graduation and when she became the president in her flashback.
"The Stars": She is seen in the mall.
"The Diet": She is seen in the mall.
"The Nuisance": She is seen in the crowd trying to kick out the Wattersons.
"The Line": She is in the line for Stellar Odyssey.
"The List": She is seen cheering for Gumball and Darwin during a running contest. She is later seen in the audience watching the play.
"The News": She is seen on the news.
Gallery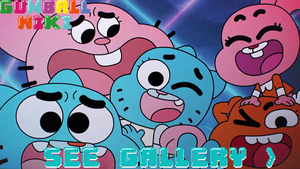 Click here to view the gallery.
Quotes
"

Gumball: [Gumball rings the doorbell, Mr. Pepperoni opens the door] What?
Mr. Pepperoni: [gasps] Siciliana, come see what the stork brought us!
[Rushing footsteps, Siciliana appears at the door]
Siciliana: [gushing] Oh look, he's got his father's eyes! Oh he's beautiful.
Mr. Pepperoni: Thank you so much. Here's a twenty.

"
—Siciliana in "The Job"
Ad blocker interference detected!
Wikia is a free-to-use site that makes money from advertising. We have a modified experience for viewers using ad blockers

Wikia is not accessible if you've made further modifications. Remove the custom ad blocker rule(s) and the page will load as expected.