"YAAAAAY!!!!"
This is a Featured Article. This page was selected as Featured Article on the main page. A new article will be elected soon.
Thank you for supporting the Gumball Wiki.
Shooting Star
Character Information
The Shooting Star is a minor character in The Amazing World of Gumball. His first appearance is in "The Mustache," when he is waiting at a bus stop. Gumball and Darwin wish upon him to be men, which somewhat comes true. His second appearance is in "The Helmet," where he is the host of Win or Don't Win, in which Richard wins a speedboat. His third appearance is in "The Castle," where he hosts the aforementioned television game show with Gary as a contestant. He explodes onscreen, because of Darwin's high-pitched shouting. His fourth appearance is in "The Boombox," where he is once again hosting the game. His fifth appearance is in "The Internet," where he is involved in a mass traffic pileup caused by the Internet. His sixth appearance is in "The Extras," in which he is hosting Win or Don't Win, with Gary as a contestant once again. He appears again in "The Gripes," in which is seen donating to Gumball and Darwin. He also appears in Splash Master and Crazy Character Creator Challenge.
Appearance
The Shooting Star appears to be simply a bipedal, glowing yellow star. A small rainbow trails behind his body, making him appear like a shooting star, and not just a regular star. His limbs and facial features are black. He does not appear to possess hands, his arms simply end at a curve.
Episode Appearances
Season 1
Season 2
Season 3
Season 4
Season 5
Season 6
Gallery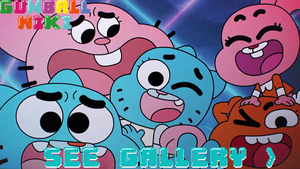 Click here to view the gallery.
Ad blocker interference detected!
Wikia is a free-to-use site that makes money from advertising. We have a modified experience for viewers using ad blockers

Wikia is not accessible if you've made further modifications. Remove the custom ad blocker rule(s) and the page will load as expected.