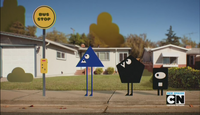 The Shape People are minor characters in The Amazing World of Gumball. They made their first appearance in "The End." They can be seen standing across the street for a split-second before the bus pulls up, and obscures the audience's view of them. They get a larger role in "The Extras." They reappear in "The Law."
Appearance
There are three of them, a triangle, a rectangle, and a pentagon. The triangle is colored blue, and is the tallest, mainly because of his long legs. The rectangle is colored black, and is the shortest, being only as tall as Idaho. He also only has one eye. The pentagon is in the middle, according to height. He, like the rectangle, is also colored black.
Known Characters
The Black Rectangle
The Blue Triangle
The Teal Square
The Blue Pentagon
The Yellow Triangle
The Black Pentagon
The Blue Square
Episode Appearances
Season 1
Season 2
Season 3
Season 4
Season 5
Gallery
Trivia
They bear a slight resemblance to the Mr. Men and Little Miss characters by Roger Hargreaves.
One of the triangles is named Ed.
They also have many similarites with the titular character of the arcade game, Q*bert.
It is revealed in "The Misunderstandings" that showing your thumbs to the Shape People is culturally insensitive to them.
Ad blocker interference detected!
Wikia is a free-to-use site that makes money from advertising. We have a modified experience for viewers using ad blockers

Wikia is not accessible if you've made further modifications. Remove the custom ad blocker rule(s) and the page will load as expected.