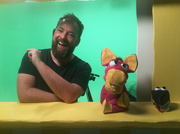 Sally the Snake is a fictional character in The Amazing World of Gumball. Her name was first mentioned in "The Remote," when Anais explained the plot of the Daisy the Donkey Show episode that she wanted to watch. Not much is known about her, as she was never seen or heard, until "The Uploads," where she was in a video clip with Daisy.
Episode Appearances
Season 4
Season 5
Trivia
In a picture of Mic Graves with Daisy, there is a snake-like puppet right beside her that might appear in future appearances with Daisy. This puppet could possibly be Sally.

The same puppet eventually appears in "The Uploads."