Sal Left Thumb
Character Information
Sal Left Thumb is a recurring character in The Amazing World of Gumball. He is a very dangerous criminal, with a large bounty on him. He made his first appearance in "The Spoon," where he was the main antagonist.
Appearance
Early Concept
He was originally a School kid as seen in Early Production Art, he looked more realistic and had no Bandana nor arms.
Final Design
Sal Left Thumb resembles an over-sized, sentient fingerprint. He usually is seen wearing a domino mask, likely to keep his identity a secret. His limbs are very long and skinny, and are rather small compared to the rest of his body. He possesses the ability to flatten himself on the ground, and appear as a regular fingerprint, which, besides the fact that the police are somewhat irresponsible, is possibly the reason why he is hard to catch.
Personality
Sal Left Thumb is a dangerous and infamous criminal in Elmore. As such, he has a very abrasive personality - he is more than willing to harm anyone, or at least threaten them. and everyone that gets in the way of his criminal activities. He often taunts his victims, such as when he sarcastically told Gumball and Darwin that he was a charity worker accepting donations, when he was clearly robbing the store, or how he calls everyone a "sucker" when they fall for his tricks. He has been like this since he was a kid, because he used to laugh at Richard's "Cottontail Caviliar" costume.
Episode Appearances
Season 1
Season 2
Season 3
Season 4
Season 5
Season 6
Gallery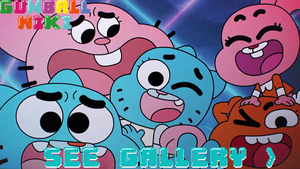 Click here to view the gallery.
Trivia