Rosie
Character Information
Rosie is a minor character in The Amazing World of Gumball. She is a small, female bunny with a high pitched voice. Her first appearance was in "The Third."
Appearance
Rosie is a small, plump rabbit that speaks in a cute high-pitched voice, and has white fur. She wears a daisy on her head, and a big heart is in the middle of her chest.
Starting from Season 2, the heart on Rosie's chest becomes bigger and a lighter shade of pink and the tuft of hair on Rosie's forehead disappears.
Personality
Rosie seems to be kind and sweet on the outside, but on the inside, she has a greedy personality, such as when she charged Gumball an obscene amount of cash to borrow her tricycle.
Episode Appearances
Season 1
Season 2
Season 3
Season 4
Gallery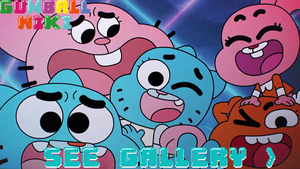 Click here to view the gallery.
Trivia
Ad blocker interference detected!
Wikia is a free-to-use site that makes money from advertising. We have a modified experience for viewers using ad blockers

Wikia is not accessible if you've made further modifications. Remove the custom ad blocker rule(s) and the page will load as expected.