"Obviously something is missing, you notice it too?"
This article is a stub. Please help the Gumball Wiki by expanding it.
Thank you!
The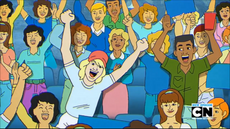 Richwood High Students
are minor characters in
The Amazing World of Gumball
. They first appeared in "
The Sweaters
" in the background. They seem to be incapable of moving properly, as they have to use their entire body in order to move, resembling cardboard stand ups. They later got their own segments in "
The Extras
," where they focus on two of the students who are struggling to get snacks while watching the tennis match between
Richwood High
and
Elmore Junior High
. Eventually,
one of the students
becomes able to move his other body parts, and the other students try to attack him for being different, but he escapes with his friend. The student is later seen with his friend (another student), driving in a stolen convertible.
Ad blocker interference detected!
Wikia is a free-to-use site that makes money from advertising. We have a modified experience for viewers using ad blockers

Wikia is not accessible if you've made further modifications. Remove the custom ad blocker rule(s) and the page will load as expected.