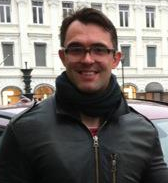 Richard Overall is the show's voice director and one of the editors. He has co-written a few songs for The Amazing World of Gumball. These include "Fine Lady," "You Gotta Think Big," and "It's Christmas Eve." 
Trivia
Overall portrayed Ike Hitcher in the Thumb War Federation commercial in "The Laziest." He also plays the News Anchor and Weatherman.
His favorite character is Darwin.
External Links
Ad blocker interference detected!
Wikia is a free-to-use site that makes money from advertising. We have a modified experience for viewers using ad blockers

Wikia is not accessible if you've made further modifications. Remove the custom ad blocker rule(s) and the page will load as expected.