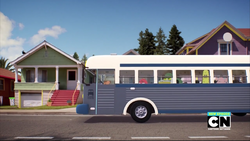 The Public Bus is a vehicle in The Amazing World of Gumball. It is the vehicle that publicly drives the citizens of Elmore, the passengers of which are usually adults. Sometimes, Gary drives it, but at other times, the Manly Warrior can be seen as the driver.
Episode Appearances
Season 1
Season 2
Season 3
Season 4
Season 5
Trivia
Ad blocker interference detected!
Wikia is a free-to-use site that makes money from advertising. We have a modified experience for viewers using ad blockers

Wikia is not accessible if you've made further modifications. Remove the custom ad blocker rule(s) and the page will load as expected.