Polly Fitzgerald
Character Information
Gender:
Female ♀
Species:
Shape-shifting fairy (peanut)
Age:
Unknown
Friends:
Gumball, Frog Kid, Blue Humanoid, Octopus, Tooth Kid, Bottle Baby, Suzy, Apple Boy, Deer Kid
Enemies:
Gumball (formerly)
Relatives:
Penny (sister), Patrick (father), Mr. Cuddles (pet), Mrs. Fitzgerald (mother), Leslie (cousin)
First Appearance:
"The Date"
Voice:
Teresa Gallagher[1]
Gallery
Polly Fitzgerald is a minor character in The Amazing World of Gumball. She first appeared in "The Date," along with the rest of her family, where she shows Gumball a tribute picture she made of Mr. Cuddles, her family's pet. When she shows Gumball the picture, he gets scared of it, and stomps the picture to the ground, causing her to start crying and upsetting her family.
Appearance
Like the rest of her family, underneath her shell, she is a shape-shifting fairy. Her appearance is similar to that of her older sister: antlers on her head, and holes in her shell for her eyes and limbs. Unlike her parents or sister (up to the events of "The Shell"), she doesn't wear shoes or socks, and we have yet to see her and her parents' shape-shifting fairy forms.
In the storyboard for "The Date," her shell was oval-shaped like her sister's and father's. She also wore a skirt and socks.
Episode Appearances
Season 1
Season 2
Season 3
Season 4
Season 5
Season 6
Gallery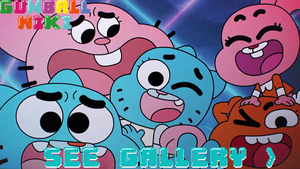 Click here to view the gallery.
Trivia
References