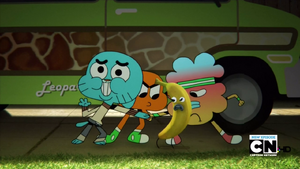 Pals Before Gals was a pact made by Banana Joe, Tobias, Darwin, and Gumball in the episode, "The Pressure." The pact is a strict no girls policy. It is likely that the group disbanded after "The Pressure," due to the fact there has been no mention of the group after that episode.
Trivia
As shown in "The End" and "The Party," the group's perspective on girls has changed, likely meaning that the group disbanded.
"Pals Before Gals" is a parody of the saying "Bros before Hoes".
Gumball was the only boy who didn't willingly join the group. Instead, he was forced to.
Ad blocker interference detected!
Wikia is a free-to-use site that makes money from advertising. We have a modified experience for viewers using ad blockers

Wikia is not accessible if you've made further modifications. Remove the custom ad blocker rule(s) and the page will load as expected.