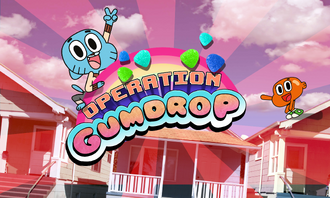 Operation Gumdrop is a game available as part of the Cartoon Network app on the iPhone and iPad.
Gameplay
The objective of the game is to drop marbles onto targets. The player is given a limited supply of marbles to complete this task. Marbles carry over from board to board - the only way to replenish your supply is by having the marble land on a blue marble icon on the bottom. Running out of marbles before clearing the board of targets will end the game.
Often the targets will be surrounded by gumdrops - these barriers will reflect marbles a certain amount of times before disappearing, but will respawn after a while. 
Scoring
Points are mainly earned by hitting the targets. Each marble also earns additional points upon falling off the screen, depending on what icon it passes on. The orange cans of food typically give 1 to 100 points, the plaid purses give from 100 to 2500+ points, and the green thumbs down give from -1 to -1000+ points. Blue marble icons also appear occasionally, adding from 1 to 20 marbles to your supply.
Gallery
Backgrounds
Sprites
Trivia
TBA
External Link
Ad blocker interference detected!
Wikia is a free-to-use site that makes money from advertising. We have a modified experience for viewers using ad blockers

Wikia is not accessible if you've made further modifications. Remove the custom ad blocker rule(s) and the page will load as expected.