Harry "Ocho" Tootmorsel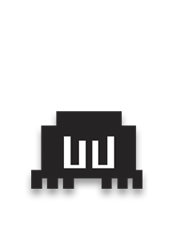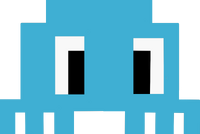 Character Information
Harry "Ocho" Tootmorsel is a recurring character in The Amazing World of Gumball. He is a spider designed in 8-bit graphics. He is in Miss Simian's class at Elmore Junior High. Along with Anton, Ocho was also brought into Tina's group by Jamie but rarely appears as a member. He has anger issues, as revealed in "The Phone."
Appearance
Ocho is a small, black 8-bit spider. His design is either a tribute to the design of the alien ships in the arcade game Space Invaders or one of the Jelectros from Super Mario Bros. 3. Like the alien ships in Space Invaders, Ocho can levitate, and shoot rays that disintegrate objects into cubes, and people (although in "The Phone," Gumball and Darwin are shown to have three lives, like in Space Invaders). In his early concept, he was colored blue instead of black.
Personality
Ocho is mostly nice and friendly when interacting with others. However, agitating him enough causes him to become erratically angry, and begin shouting at and attacking other people.
In "The Uncle," Ocho admits to having trust issues, as he believes people only want to befriend him because his uncle is famous.
Episode Appearances
Season 1
Season 2
Season 3
Season 4
Season 5
"The Stories": He's riding the school bus and tries drowning out Molly's stories for Tobias.
"The Vision": He's among the students sent to Alan's happy camp.
"The Code": He's at the cafeteria. This is also his sixth speaking role.
"The Uncle": His second major role. He forces Gumball to go through several tests to ensure that he is a real friend.
"The Weirdo": He bullies Sussie, and is blown up by the Bomb Guy.
Voice Actors
Gallery

Click here to view the gallery.
Trivia
His name is a gag, as "Ocho" means eight in Spanish, which refers to him being a spider and having an 8-bit design.
Even though he is a spider, he only has six legs. This is probably because of the limits of 8-bit graphics.
Ocho has his first speaking role in "The Phone."
His real name is Harry Tootmorsel as revealed in "The Uncle."
Despite his stature, Ocho is strong enough to lift people, as seen in "The Club," when he was hoisting up Gumball.
The episode "The Phone" was the first episode that revolved around him, though he played a recurring non-speaking role in "The Club."
Ocho can use cheat codes in real life, as shown in "The Tape."

He is shown using the famous Konami Code in the episode.

Judging by the fact he has been seen on magazines in numerous episodes, he could be famous.

This is further supported in "The Uncle" when he says that his uncle is famous, but not Uncle Mario.

His only speaking roles are in "The Phone," "The Words," "The Storm," "The Promise," "The Boombox" "The Tape", "The Gift," "The Code" and "The Uncle."
Minus a brief cameo in "The Safety," he had no physical appearance in Season 3, other than appearing in books, magazines, and posters.
In "The Blame," it is suggested that Ocho used to look like a human being (which resembled Jacob Hopkins, Gumball's second voice actor) and that his 8-bit graphic form is a result of excessive gaming. However, this is probably a non-canon joke.
Even though it was his first major appearance in an episode, he does not speak in "The Club."
Ad blocker interference detected!
Wikia is a free-to-use site that makes money from advertising. We have a modified experience for viewers using ad blockers

Wikia is not accessible if you've made further modifications. Remove the custom ad blocker rule(s) and the page will load as expected.