Newspaper Employee
Comments

0
870pages on
this wiki
Newspaper Employee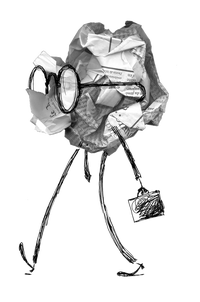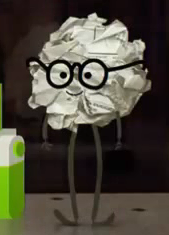 Character Information
The Newspaper Employee is a minor character in The Amazing World of Gumball. He first appeared in "The End" while standing in line at Food N' Stuff. He is also seen briefly in "The Laziest" and "The Helmet." The 3D Cube Employee appears to be a close friend of his. He is also seen in "The Job."
Appearance
The Newspaper Employee is a bipedal, living ball of crumpled up newspaper. He wears black glasses, and his limbs are scrawny and black as well. His arms are made out of newspaper.
In Season 2, he is slightly changed as he develops eyebrows, dots for eyes, and a mouth. His legs and arms look different, too.
Episode Appearances
Season 1
Season 2
Season 3
Trivia
Based on a early concept poster, the Newspaper Employee was originally supposed to be a ball of scribbles.
Like Larry and Pantsbully, he has more than one job, as he is shown to work at both Chanax Inc. and the Rainbow Factory.