Mushroom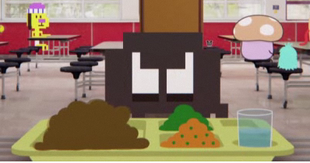 The Mushroom (to the right).
Character Information
| | |
| --- | --- |
| Gender: | Male ♂ |
| Species: | Mushroom |
| Occupation: | Student |
| First Appearance: | "The Dress" |
The Mushroom is a minor character in The Amazing World of Gumball. Like the Hot Dog Guy, he usually appears in the background of the School Cafeteria, usually sitting around other background characters. His first appearance was in "The Dress". He also appeared in "The Flower" behind Gumball before Carrie takes him to her house. He also appeared in "The Name" in the cafeteria once again. Then he appears in "The Extras" which is his first speaking role in the show. He's seen singing angrily along with the other background characters from this show towards Gumball and Darwin
Appearance
The Mushroom has a tan cap with white spots and a purple colored stem.