Mrs. Fitzgerald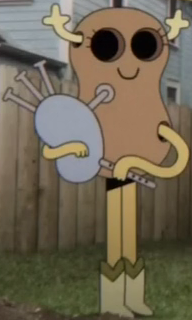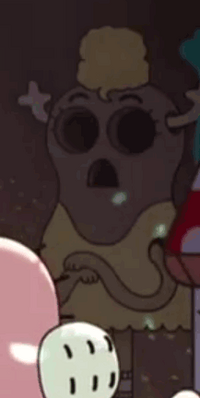 Character Information
Mrs. Fitzgerald is a minor character in The Amazing World of Gumball. She is the mother of Penny and Pollie and is married to Patrick. She first appeared for a brief moment in "The DVD" during the chase scene[2] [3]. She makes another appearance in the episode "The Date," where she gets upset when Gumball destroys her younger daughter's memorial picture of Mr. Cuddles.
Appearance
Mrs. Fitzgerald is presumably a shape-shifting rainbow fairy like her daughter Penny, but she is still in her peanut form, is taller, has smaller antlers, has an hourglass figure like Pollie and Penny, and we have not seen her in her fairy form, unlike Penny, of which we see in the episode, "The Shell." She also wears light brown and white cowgirl boots, suggesting she may be from the Midwest.
In the storyboard for "The Date," her shell was oval, like her daughter's Season 1 design.
Personality
Not much is known about her personality. However, she seems to be extremely generous, as she was willing to give Gumball and Darwin large amounts of money, her boots, her ring and even her kidney when she felt they needed help, as seen in "The Gripes."
Episode Appearances
Season 1
Season 2
Season 3
Season 4
Season 5
Gallery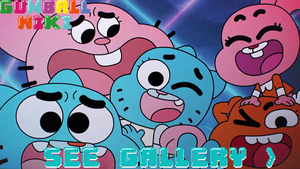 Click here to view the gallery.
Trivia
She plays the bagpipes, and is apparently skilled at them.
Her first appearance is ironic because she appeared in the series before her daughter herself.
She gave Penny permission to go after Gumball in "The Knights," suggesting that she, unlike her husband, approves of their relationship.
According to Penny in "The Romantic," she is inept at technology, as she once took a broken computer mouse to a veterinarian.
References
Ad blocker interference detected!
Wikia is a free-to-use site that makes money from advertising. We have a modified experience for viewers using ad blockers

Wikia is not accessible if you've made further modifications. Remove the custom ad blocker rule(s) and the page will load as expected.