Who are Mr. and Mrs. Senicourt?
Mr. and Mrs. Senicourt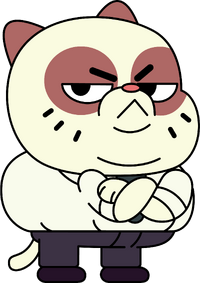 Character Information
Mr. and Mrs. Senicourt are minor characters in The Amazing World of Gumball. They are Nicole's parents. They made their debut in "The Choices."
Appearance
Mr. Senicourt is a short and overweight snowshoe cat with a head shape and short whiskers similar to his daughter. He has cream white fur with brown fur on his ears and brown circles on his eyes. He wears a white collared shirt with its sleeves rolled up to his elbows and is tucked into his pants, and a dark blue tie. He also wears dark gray pants and dark brown loafers. His face is always in a grumpy expression.
Mrs. Senicourt somewhat resembles her daughter, Nicole. She is a blue cat just like her, but with a more round face, pointier ears, smaller oval shaped eyes, longer whiskers, a longer tail, and a different mouth type. She is thin and taller than both her husband and her daughter. She wears a yellow-orange sleeveless turtleneck blouse, a long dark blue skirt with a brown belt having a white buckle, and brown heeled sandals.
Personality
Mr. Senicourt is a short-tempered and grumpy person, and hardly ever seems to be in a good mood. Like his daughter, he is easily angered and can get violent. He also appears to be unusually strong, as he was able to plunge the engine of his car out with a single punch. He also seems to disapprove of Nicole and Richard's relationship as he slammed the door at the young Richard when he brought flowers for Nicole, and neither he nor his wife were at Nicole's wedding.
Mrs. Senicourt, unlike her husband, is very calm but somewhat snobby. She seems to value success over love and is determined for her daughter to become very successful, by constantly placing high expectations in academics and physical activity. However, she has a softer side as she was saddened by Nicole moving out, suggesting that despite her ambition for Nicole having a successful life, she truly and deeply cares about her.
Episode Appearances
Season 1
Season 3
Season 5
Gallery
Trivia
References