Mr. Pepperoni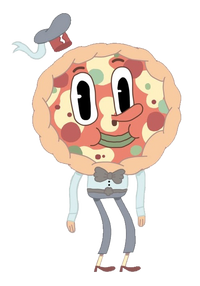 Character Information
Mr. Pepperoni is a minor character in The Amazing World of Gumball. His first appearance was in "The Job."
Physical Appearance
Mr. Pepperoni is an anthropomorphic pepperoni pizza (it being mostly his head) with a body attached. He wears a steel blue job outfit, along with a sailor's cap.
Episode Appearances
Season 2
"The Job": He appears in a sight gag when Gumball and Darwin dropped his pizza, which shocks him, along with his wife. (He thought of the pizza they delivered as an infant he and his wife were going to adopt).
"Christmas": He appears at the final scene, along with the rest of the families in the Watterson's neighborhood.
"The Pony": He is seen in a queue at Ripley 2000.
"The Boombox": He is seen on an airplane during a commercial.
"The Tape": He appears in one of Gumball's videos.
"The Finale": He is among the members of an angry mob attacking the Wattersons, finding his way through their window.
Season 3
"The Name": He appears in Gumball's subconscious as he appeared in "The Job."
"The Extras": His first major role. He appears in a flashback revealing how he met his wife. They later sing "Just Notice Us."
"The Gripes": He is one of the people seen donating to Gumball and Darwin.
"The Law": He appears walking on the sidewalk.
"The Shell": He appears in the theater audience watching the play.
"The Butterfly": He is one of the citizens knocked over apart from Elmore Mall.
"The Oracle": He is one of the citizens who want to be the 1,000,000th costumer in Elmore Mall.
"The Spoiler": He appears in the cinema.
Season 4
"The Others": He can be seen in the crowd of citizens on the highway.
"The Parking": He is examined by Anais.
"The Romantic": He drives by Rocky's school bus at an intersection.
"The Wicked": He attacks a Shape Person at the hospital.
"The Traitor": He is at the cinema.
"The Origins: Part Two": He walks when Darwin goes back to Elmore.
"The Awkwardness": He is seen in the bus.
"The Nest": He tries to take pictures of Evil Turtle, despite the Doughnut Sheriff's warnings.
"The Blame": He is at the PTA meeting.
"The Disaster": He is at the mall.
Season 5
Season 6
Gallery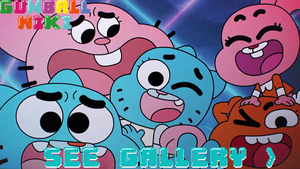 Click here to view the gallery.
Quotes
"

Gumball: [Gumball rings the doorbell, Mr. Pepperoni opens the door] "What?"
Mr. Pepperoni: [gasps] Siciliana, come see what the stork brought us!
[Rushing footsteps, Siciliana appears at the door]
Siciliana: [gushing] Oh look, he's got his father's eyes! Oh he's beautiful.
Mr. Pepperoni: Thank you so much. Here's a twenty.

"
—Mr. Pepperoni in "The Job"
"

Richard: Well, I think we've pretty much ticked off the whole town."
Mr. Pepperoni: They dropped our baby!"
Bomb Guy: They blew up my head!"
Santa: They ran me over!

"
—Mr. Pepperoni in "The Finale"