"YAAAAAY!!!!"
This is a Featured Article. This page was elected as Featured Article on the main page. A new article will be elected soon.
Thank you for supporting the Gumball Wiki.
Molly Collins
Character Information
Molly Collins is a minor character in The Amazing World of Gumball.
Appearance
Unlike Tina Rex, she is not animated in CGI. She is a small, child version of a Sauropod. Her body is black, and her arms usually rest in front of her body. She has a very long neck, and her head is always angled to show both her eyes.
Personality
Molly appears to be somewhat shy and insecure. She can be playful at times. As shown in "The Void," she has a hobby of collecting pencils, which others find to be boring. She also appears to have a upbeat,happy personality.
Appearances
Season 1
Season 2
"The Words": She can be seen in the background of one of Tobias' photos.
Season 3
"The Void": She has her first major role, where she is among the world's mistakes who were erased and sucked into the void, due to her being "boring," and this is revealed to be the reason for her year-long absence since Season 2. She is rescued from the void and brought back to the world by Gumball, Darwin and Mr. Small, although they afterwards lose all memory of the void and the fate of the world's mistakes when their memories are erased as a mistake.
Gallery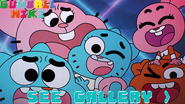 Click here to view the gallery.
Trivia
Back in production for the show, Molly was originally to be larger and wider.
Despite being somewhat prominent in the show, she does not have a bio on any Cartoon Network sites, unlike some of the more minor characters that inexplicably have bios.
It was revealed on James Lamont's Formspring that Molly's last name is Collins. [1]
Molly did not make an official appearance in season two. Although, she appeared for a split second in one of Tobias' photos in "The Words."
Molly sounded different in "The Void" than usual.