Molly Collins
Character Information
Molly Collins is a minor character in The Amazing World of Gumball.
Appearance
Unlike Tina Rex, she is not animated in CGI. She is a small, child version of a Sauropod. Her body is black, and her arms usually rest in front of her body. She has a very long neck, and her head is always angled to show both her eyes.
Personality
Molly appears to be somewhat shy and insecure. She can be playful at times.
Appearances
Season 1
"The End": In the school corridor during the "wedding".
"The Pressure": With the Treehouse Girls.
"The Ape": In class messing around while Miss Simian thinks.
"The Kiss": Cheering Gumball to help him forget about the kiss from Granny Jojo.
"The Party"': At the party.
"The Mystery": Joins the rest of the class in chasing Gumball all over the school.
"The Robot": Walking with Carmen, Masami, and Carrie

in the halls fawning over the "new" Gumball.
Season 2
"The Words": In the background of one of Tobias' photos.
Season 3
Gallery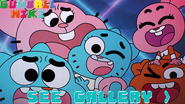 Click here to view the gallery.
Trivia
Back in production for the show, Molly was originally to be larger and wider.
Molly, Tina Rex and Mr. Rex are the only dinosaurs on the show so far.
Despite being somewhat prominent in the show, she does not have a bio on any Cartoon Network sites, unlike some of the more minor characters that inexplicably have bios.
It was revealed on James Lamont's Formspring that Molly's last name is Collins. [1]
Molly has not made an official appearance in Season 2.