Milk Guy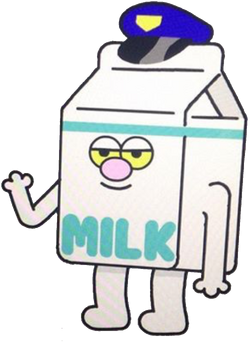 Character Information
The Milk Guy is a minor character in The Amazing World of Gumball. He made his first appearance in "The Parking."
Appearance
He is a white carton of milk. He wears a police hat without a uniform. He has yellow eyes, a pink nose, and the word "MILK" on him printed in light blue.
Episode Appearances
Season 4
"The Parking": Gumball approaches him and accidentally throws the car keys at him, piercing his body and causing milk to spew out of him. However, he reappears when Richard messes up the parking.
Season 5
Season 6
"The Faith": He is seen watching the football team when the color turns black and white, then he gets into a fight with the Butterknife.
"The Brain": He is working the Elmore Hospital toll booth when Richard mistakes it for a drive-through. He reluctantly gives the Wattersons some mints and paper, but explodes in rage when Principal Brown also mistakes the booth for a drive-through.
Gallery
Designs